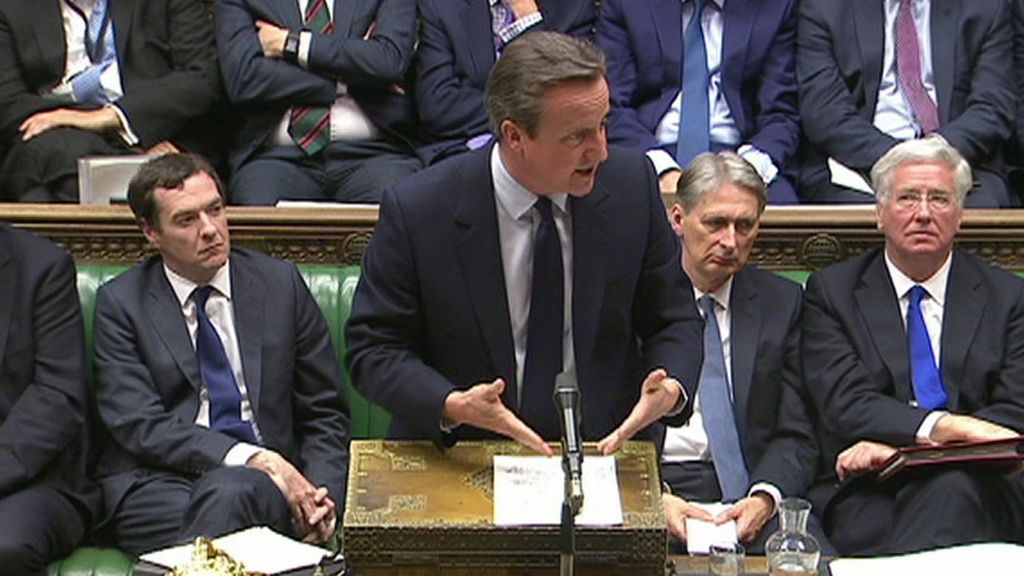 The government has a "fundamental responsibility to bring our country together" in the aftermath of the EU referendum, David Cameron has told MPs.
The PM addressed MPs for two hours in the Commons on Thursday's vote to leave the European Union.
He said negotiating an exit would be the civil service's most complex and important task for decades.
Labour's Jeremy Corbyn warned his own party – and the Tories – against "internal factional manoeuvring".
The Labour leader is currently facing MPs who have put forward a motion of no confidence in him following the Brexit vote. He is then expected to speak to supporters of his from the Momentum campaign group and trade unions who have gathered outside Parliament.
Meanwhile, Germany, France and Italy have said they will not hold informal talks with the UK until it triggers the official Article 50 mechanism notifying the rest of EU of its intention to leave.
After a meeting with German Chancellor Angela Merkel in Berlin, French President Francois Hollande and Italian Prime Minister Matteo Renzi emphasised the need to process the UK's exit as quickly as possible and focus on the challenges facing the remaining 27 states.
Mr Cameron is to stand down as prime minister by October, and has triggered a Conservative leadership contest, while Mr Corbyn is facing a revolt in his shadow cabinet with members questioning his performance in the referendum campaign.
The PM told MPs he did not take back the warnings he made during the campaign about the consequences of leaving the EU, saying it would be "difficult" with "challenging new negotiations" ahead.
'Key decisions'
While "all of the key decisions" would wait for his successor, he said there was work to be done in the meantime, and a new EU unit had been set up in Whitehall to "bring together expertise".
He defended the decision …read more
Source:: BBC UK