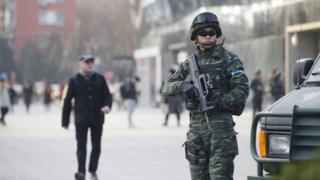 Beijing security: 'Possible threat to Westerners' governments warn
24 December 2015
From the section China
Image copyright
Reuters
Image caption
Security has been tightened in Beijing
The UK and US governments have warned their citizens about "possible threats against Westerners" in the Chinese capital on or around Christmas Day.
British and US officials say they have received information of possible threats in Beijing's Sanlitun area – a busy bar and shopping district.
They did not provide further details about the possible threats.
Beijing police say they have issued a yellow alert to ensure security over the Christmas period.
A yellow alert is the second lowest level in China's four-level security alert system.
Source:: BBC UK