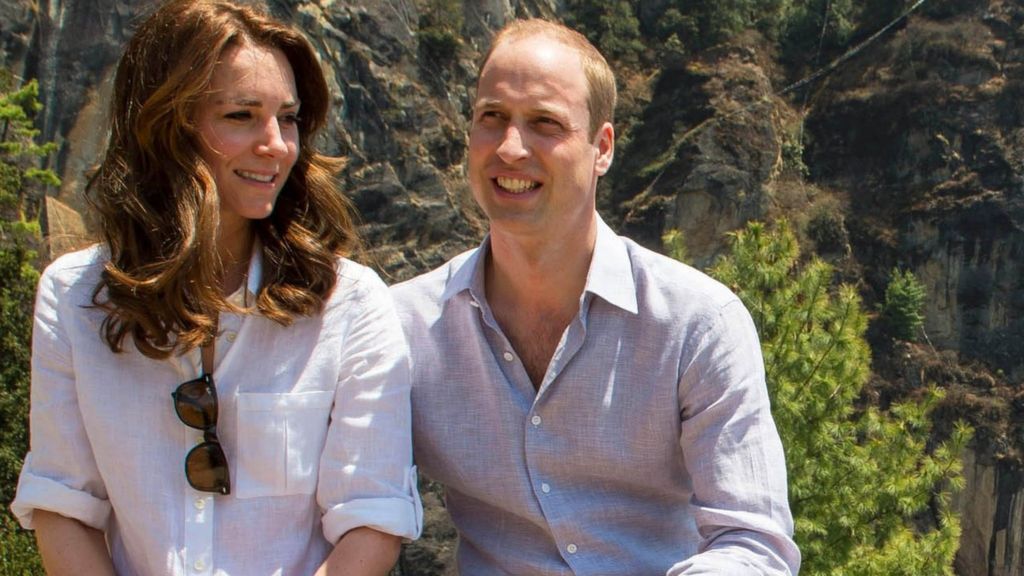 The Duke and Duchess of Cambridge have trekked in the Himalayas to Bhutan's Tiger Nest monastery.
They took time to soak up the panoramic views surrounding the 17th century monastery, formally known as Paro Taktsang, during a three-hour walk.
Situated about 10,000ft (3,000m) above sea level and on a cliff face, the monastery is considered to be one of the holiest for the Bhutanese people.
The royal pair are taking part in a seven-day tour of India and Bhutan.
Prince William and the Duchess of Cambridge walked hand in hand for part of the hike.
"It was quite tough on the way up," Prince William said after completing the challenge, while the duchess added the journey was a "great way to burn off the curry".
The hike to the monastery, which was built in 1692, was one which the Prince of Wales half completed in 1998, but hampered by a polo injury he decided to sketch the scenery rather than continue to the top.
William and Kate's route up to the Tiger's Nest trailed through a pine forest on the slopes of the hill.
The duchess was dressed in a white blouse, leather jerkin, leggings and calf-length boots, while Prince William wore chinos and a blue shirt and walking boots.
Bhutan: A land of revered royalty, tree-planting and happiness
In pictures: Duke and duchess in India and Bhutan
On arriving at the summit the duchess said: "Wow, that's amazing", while Prince William, admiring the architecture, said: "Look at the roof, it's cool. What a great view."
Sonam Penjor, 34, who works in the Bhutan information department, said: "Prince Charles came here before in 1998, but he only made it to the cafeteria, the halfway point. So he took some nice shots but he was not able to come to this point.
"Maybe the altitude affected him. I think his son and …read more
Source:: BBC UK