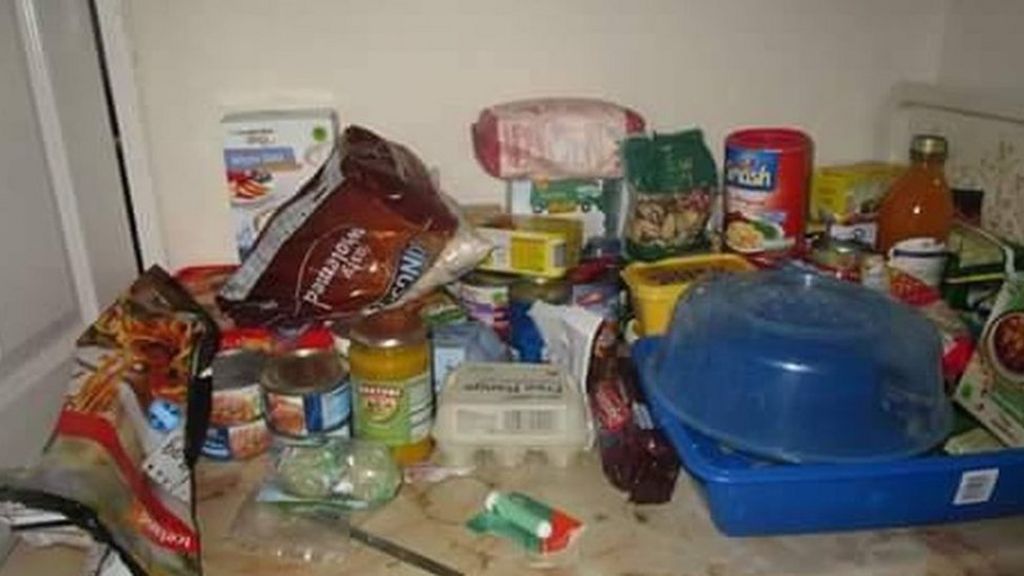 A council is investigating how a 93-year-old woman was left to live alone in "shocking" conditions despite carers being paid to look after her.
The woman's plight was discovered by chance when a member of the public gave her a lift home after finding her confused at the side of a road.
She checked on her a few days later and found she had been living in "squalor".
Sevacare, which was contracted to care for the woman by Nottingham City Council, said it is also investigating.
Ursula Norris, who found the 93-year-old at the side of the road on 8 March, was so shocked when she saw the woman's house she phoned the police.
"When I entered the property, that's when it all became apparent that this lady was actually living in the conditions of squalor," she said.
'Rot and mould'
"It was the smell that hit me first. It's nothing you can describe to anybody. You would have had to have smelled it to believe it."
She found bags of rubbish, maggots, piles of out of date food and a rug "just stuck to the floor with rot and mould".
Nottinghamshire Police contacted the council and, in a statement, said it is "working closely with the city council's social care team to ensure her living conditions are greatly improved".
Ms Norris and a friend have also been cleaning the house and making daily checks on the woman.
Council 'acted immediately'
Helen Jones, director of adult social care at Nottingham City Council, said: "We were shocked to hear of the conditions this lady had been living in recently and acted immediately once we were informed by the police."
She said the council relies on Sevacare to advise it of any concerns and the agency is contractually-obliged to do this.
"We have been out to visit her and increased her current care levels – we will continue to work with her to ensure her wellbeing into the future," she added.
'Full investigation'Sevacare has been providing domiciliary care services for Nottingham City Council for five years and currently cares for 183 people in the city
A report following a Care Quality Commission inspection in September 2015 said improvement was required in two out of five areas – safety and responsiveness
The report noted: "Although there were sufficient numbers of staff, there was a high turnover of staff which impacted on people's views of the quality of service they received."
Sevacare was contracted to provide the 93-year-old woman with one …read more
Source:: BBC world news feed