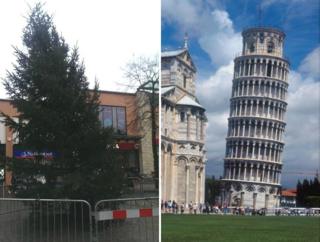 Wonky Beeston Christmas tree gets the chop
5 December 2015
From the section Nottingham
Image caption
The Christmas tree was in Beeston – which could be twinned with Tuscany, home to the Leaning Tower of Pisa
A Christmas tree that tilted so much it was compared to the Leaning Tower of Pisa has been taken down due to safety fears.
The tree was in the Nottinghamshire town of Beeston – which coincidentally could be twinned with the Italian region of Tuscany, where Pisa is.
Dubbed the Leaning Tree of Beeston, it started to tilt because someone removed its supports on two separate occasions.
The council was worried severe weather could blow the tree down.
Source:: BBC world news feed