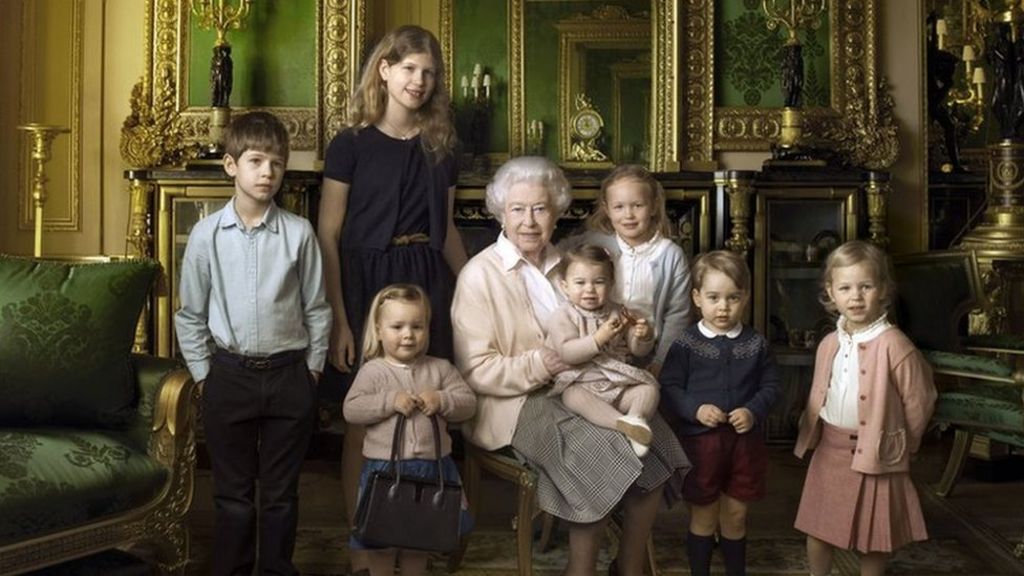 A photograph of the Queen surrounded by her five great-grandchildren and her two youngest grandchildren has been released to mark her 90th birthday.
It is one of three images taken by celebrity photographer Annie Leibovitz.
Celebrations get under way later as the Queen takes part in a walkabout in Windsor and lights a symbolic beacon.
Prime Minister David Cameron said in a video tribute that the Queen had been "steadfast – a rock of strength for our nation, for our Commonwealth".
Gun salutes take place around the UK at noon, while the prime minister is expected to lead tributes to Britain's longest serving monarch in the Commons.
'Culture shift'
Mr Cameron is expected to say: "Her Majesty The Queen has lived through some extraordinary times in our world.
"From the Second World War to the rations with which she bought the material for her wedding dress.
"From presenting the World Cup to England at Wembley in 1966 to man landing on the moon three years later.
"From the end of the Cold War to peace in Northern Ireland.
"Throughout it all, as the sands of culture shift and the tides of politics ebb and flow, Her Majesty has been steadfast – a rock of strength for our nation, for our Commonwealth and on many occasions for the whole world."
The other photographs by Leibovitz show the monarch walking in the grounds of Windsor Castle with four of her dogs and sitting with her daughter, the Princess Royal.
The image of the Queen with the young royals was taken in the Green Drawing Room, part of Windsor Castle's semi-State apartments just after Easter.
In it, the Queen – in the tradition of royal portraiture – holds her youngest great-grandchild Princess Charlotte, who is 11 months, in her arms.
Also appearing in the image is two-year-old Prince George, Zara Phillips's two-year-old daughter Mia …read more
Source:: BBC UK