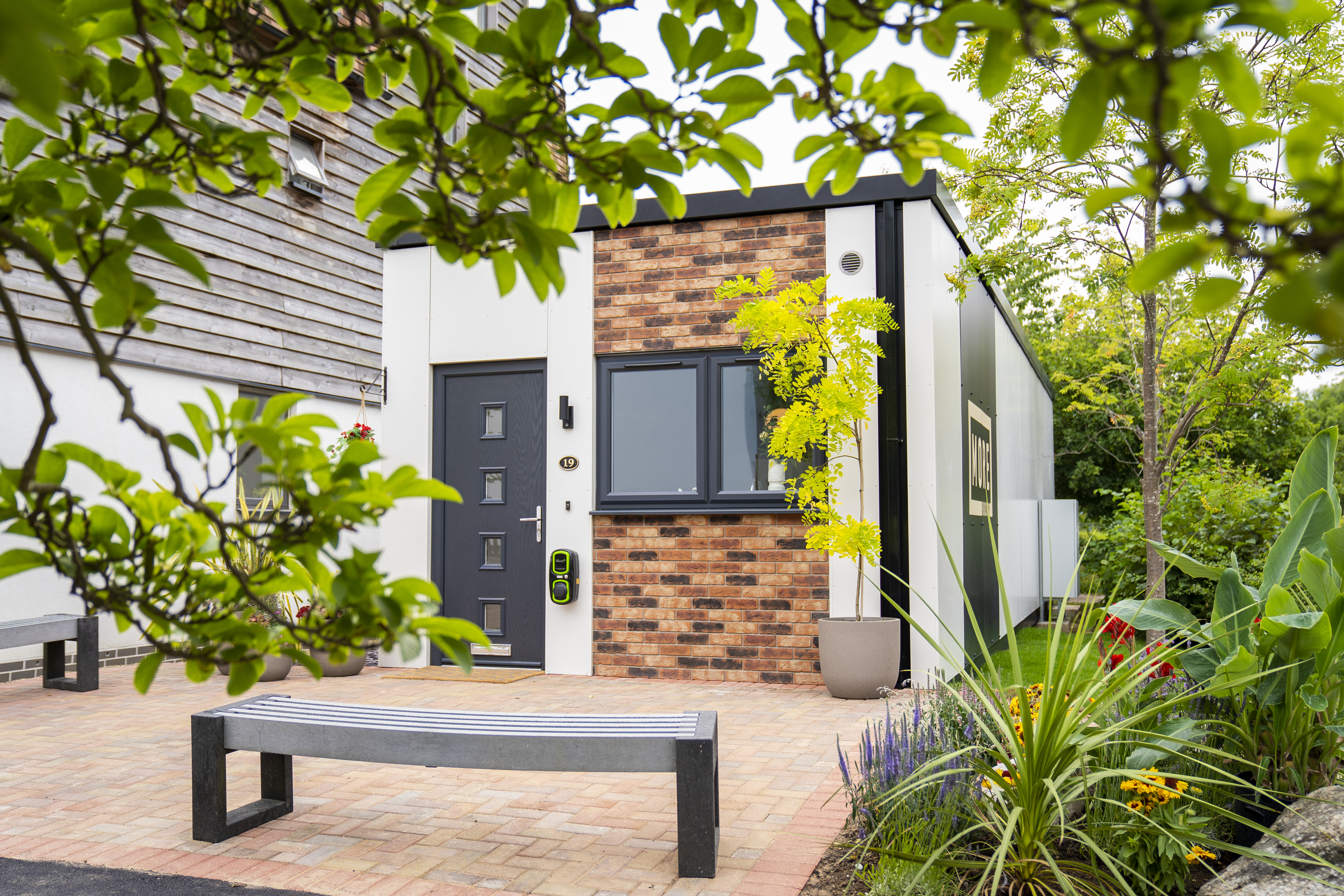 More Housing's new home, The Parker marks a new start in the UK's approach to the housing crisis with their homes designed with MMC for meanwhile and permanent sites, providing an eco-innovative, mental health friendly solution for councils nationwide.
Currently, the UK has close to 100k people in temporary housing or on the streets. Conditions in temporary housing have been widely reported by charities and the media* as unsafe and unsatisfactory, with one in five having hazardous conditions. This menagerie of problems – poor air circulation, damp and mould, only shared facilities with no private front doors, safe storage or room to work – means living in poor-quality temporary housing can have a variety of mental health implications for those affected.
More Housing's mission was to create mental health inspiring, low carbon, eco-innovative homes that could be deployed quickly to suit each county's requirements.
Attempting to solve one issue without creating another was the challenge for the team. Three years of constant setbacks and continued innovation to source solutions for them, has seen More Housing finally launch.
Mr Hossain, Operations Executive at More Housing said:
'Whether it's temporarily using brownfield sites or permanent spaces, Councils can now use our plug and play homes to plan solutions to complement their town, city or village plans with a future-proofed investment.
'Installation is seamless as all homes come in completed 3D volumetric modules with all internal and external finishes and services installed, a high PMV and are stackable to configure the optimum design for the space.
'Each home arrives fully furnished and has a highly efficient fabric system. Clean air, filtered through our mechanical ventilation with heat recovery system, high ceilings, space and storage means that each home feels homely, with the ability to hang pictures on the walls and a designated area to enable working from home. It forms a fresh new beginning for each occupant and we hope, a new dawn and solution for the country as a whole.'
Showcased at world renowned BRE Innovation Park
The Parker is currently on display at BRE Innovation Park in Watford.
BRE Innovation Park is respected globally for testing the validity of property innovation and showcasing home designs of the future.
MORE Housing is delighted to announce its partnership with Integra Buildings, who have worked hard to help bring their vision to reality.
Mr Hossain continued:
'We took it as the biggest compliment that The Parker is showcased at BRE. We have proven that it is possible to build high quality, affordable housing in an eco-friendly, mental health inspiring manner. Not to be mistaken for shipping containers, each More Housing home is built using Modern Methods of Construction (MMC) which means that there is less waste, site noise, disruption and the they are closer to net zero carbon as they can possibly be.'
'Fully electric in its design, each home is also powered by solar and smart battery power. Air is filtered as it enters the home and before it leaves which eradicates dust and viruses. Due to the smart functionality built in, each home is far cheaper to sustain helping its new occupants to create a new life with reduced stress and maintained dignity.'
Wayne Potter, Anti-Vandal Sales Manager at Integra Buildings, said:
'Our partnership with More Housing stemmed from a shared belief and vision – to tackle homelessness and provide quality, affordable housing to those most in need of help.
'This is a hugely exciting project which showcases the advancements and enormous potential of modular housing. The Parker is a stunning design, built to an incredibly high technical standard.
'We've seen first-hand from previous projects, including the installation of 30 studio apartments for young people in Bristol, how perfectly suited modular construction is to the design and delivery of pod accommodation.
'We're excited for what we hope will be a long and successful partnership with More Housing.'
As the UK moves into one of its harshest winter's yet, it's More Housing's hope that councils get in touch or visit BRE to see how simple the solution can be to meet the desperate need for housing in a future focused way.
* https://www.insidehousing.co.uk/news/news/serious-hazards-found-in-one-in-five-temporary-accommodation-bbs-in-london-74819