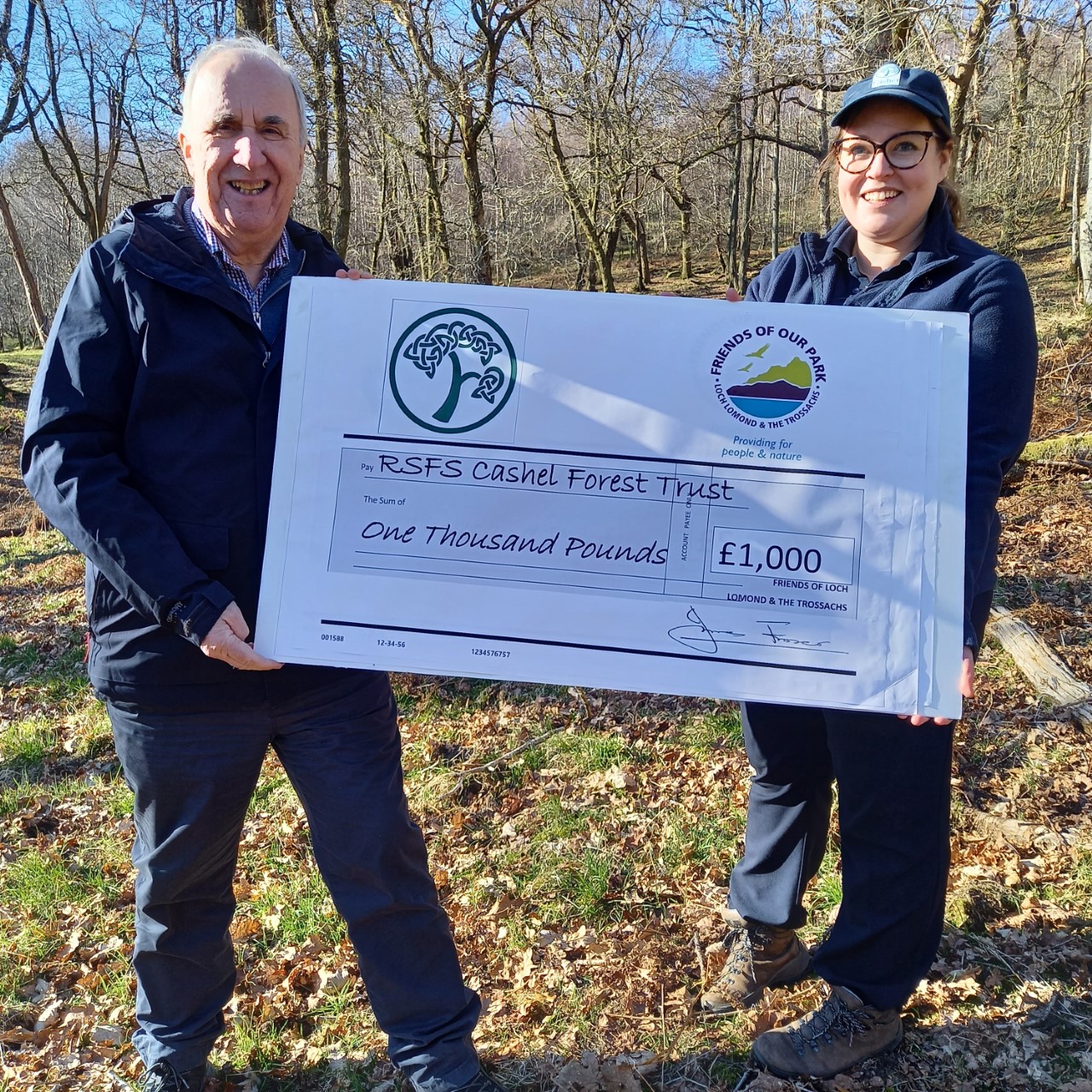 With support from Duff Christmas Tree Farm and St Mocha Coffee Shop in Balmaha, who both participate in the Friends of OUR Park Visitor Giving Scheme, it has been possible to support several red squirrel projects including the new £6,000 red squirrel hide and footpath link planned for the ancient oakwood at Cashel Forest on East Loch Lomond.
The hide will be built this year by Cashel Forest Trust to enable visitors to observe the red squirrels that regularly scamper along the branches of a giant oak tree near one of Cashel's woodland paths. A grant of £1,000 from the Our Park scheme has formed part of the funding for this planned addition to the ancient bluebell woodland on east Loch Lomond.
Emma Sandhu, Cashel Forest Ranger, said: ''We are very grateful for this funding from the Friends which supports our work to create a sustainably and sensitively designed wildlife hide to enable visitors to get closer to red squirrels and other woodland wildlife. These sorts of wildlife encounters are very special, and the experience can be a highlight for visitors to our woodlands. This isn't the first time Cashel's ancient oak woodland has benefited from the support of the Friends; A grant given in 2022 to plant young oak trees has helped with work to restore a healthy age-diversity to the wood. With the Friends' support, Cashel will continue to protect the future of this spectacular habitat within Loch Lomond and the Trossachs National Park."
James Fraser, Chair of the Friends said: 'This is a good practical example of how we use the funds raised by local businesses to help projects that will enhance visitor enjoyment of the diverse nature in the National Park while contributing to the efforts to conserve red squirrels along the Highland Boundary Fault Line which is an important stronghold for red squirrels.''
For the past three years Duff Christmas Tree Farm has supported the Friends 'Our Park' scheme for red squirrel conservation as part of their 'Cut Your Own Christmas Tree' sales while at the Loch Lomond Coffee Co. at St Mocha Coffee Shop funds have been raised from a percentage of the sales of small bags of ground coffee beans.