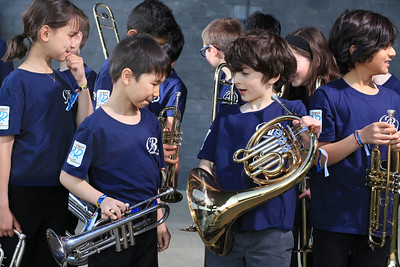 Many will be familiar with Alex Humphreys as a popular presenter on CBBC, BBC, and S4C. However, for many in the enthusiastic and dedicated world of brass bands, Alex is known for playing in a number of Wales' leading brass groups including Northop Silver Band, City of Cardiff Melingriffith Brass Band and Parc and Dare Band, and has played the cornet since the age of 7.
All of that makes Alex a perfect choice to head up this year's Youth Champs, the National Youth Brass Band Championships of Great Britain, taking place on Saturday 25 March at Stockport Grammar School. The event is open to the public and celebrates our next generation of brass playing talent with bands performing in three different categories.
Many schools will have, or will have had at one time or another, a brass band, but did you know that some youth brass bands also compete at a very high level? With youth bands existing across the country, the best return to the competition annually for a chance at winning the Championship title, while the overall winners will earn the chance to compete at European level. This year will see a very encouraging 38 bands taking part, comprising over 1,000 participants.
Alex's experience in music offers a shining example of how a passion for music can be explored alongside a professional career. With her expertise in brass performance, Alex taught Blue Peter presenter, Barney Harwood, to play the trombone as part of his Big Brass Challenge on the long-running children's show, resulting in a performance at the Royal Albert Hall. She has also co-presented Welsh television's prime-time entertainment series, 'Band Cymru', and the youth music competition, 'Band Ieuenctid Cymru'. Banding, it seems, is for life!
Alex commented: "It's great that we have this public event that really showcases the best of our nation's young brass talent. Whether you're already a brass fan, or looking to hear something new, Youth Champs could help you discover some beautiful music – with pieces written specifically for brass band, alongside arrangements of popular and classical tunes that you'll know and love. I hope the day inspires more young people to pick up an instrument or join a band, and that schools and music hubs will be encouraged to take part."
Booking ahead is advised. Advance tickets are priced at £13, £5 for children, with under 5s going free. Tickets can be purchased from the Brass Bands England website.