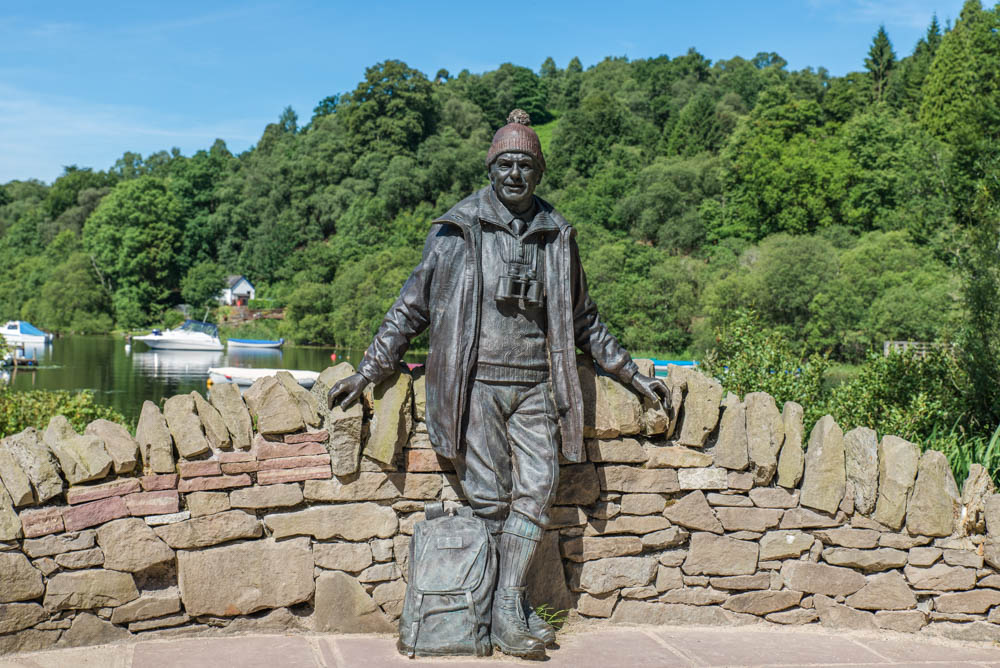 Popular statue and mountain garden at Balmaha visited by over 1 million visitors.
With sponsorship from Sandy Fraser of the Oak Tree Inn, and funding from the Hannah Stirling Loch Lomond Trust, the Friends of Loch Lomond & The Trossachs are currently upgrading the popular Tom Weir's Rest site in Balmaha which is suffering from wear and tear due to high visitor numbers.
This previously run down picnic site overlooking Balmaha Bay on Loch Lomondside was transformed by the Friends and the Tom Weir Memorial Group in 2014 following major fundraising efforts to mark the 100th
anniversary of the birth of the famous mountaineer, conservationist, broadcaster and writer, who was also one of the founder members of the Friends of Loch Lomond and lived locally at Gartocharn.
At a memorable event in December of that year a specially commissioned statue in memory of Tom Weir was unveiled in front of a bumper crowd, with many wearing his famous red toorie hats. Subsequently, further improvements were made to the picnic area with stone walling, new picnic benches and a mountain garden. The site has now been visited by more than 1million people with photos beside the statue being a must for most visitors.
Last year the view across the bay behind the statue, which had become overgrown, was re-opened by volunteers participating in one of the Friends Make a Difference Days but it was evident that due to the impact of large visitor numbers and adverse weather conditions a more radical facelift was required.
Heavily Used
A funding package has been assembled to resurface the heavily used paths and gathering area, repair walls and to give the Mountain Garden a makeover. The bulk of this work will be completed over the next month led by Sandy Fraser with his own landscaping team and, later in the year, another Make a Difference Day is planned to ensure the site is well maintained.
James Fraser, Chair of the Friends said: "We are not surprised the site has been a runaway success with what must be one of the most photographed statues in Scotland due to its careful positioning against the changing scenic backdrop of Balmaha Bay and close to the West Highland Way.
"I have no doubt if Tom was still alive he would be thrilled that so many visitors have visited the statue and to enjoy the great outdoors on his beloved Loch Lomondside, which he did so much to promote in his popular Weir's Way TV series and for 50 years in the monthly editions of The Scots Magazine."
Sandy Fraser of the Oak Tree Inn added: "It is important we continue to mark Tom's memory and contribution to raising awareness of great outdoors as a recreational resource to be cherished and cared for by maintaining his popular picnic area and mountain garden on Loch Lomondside and I am pleased to be working in partnership with the Friends to ensure this continues to happen."