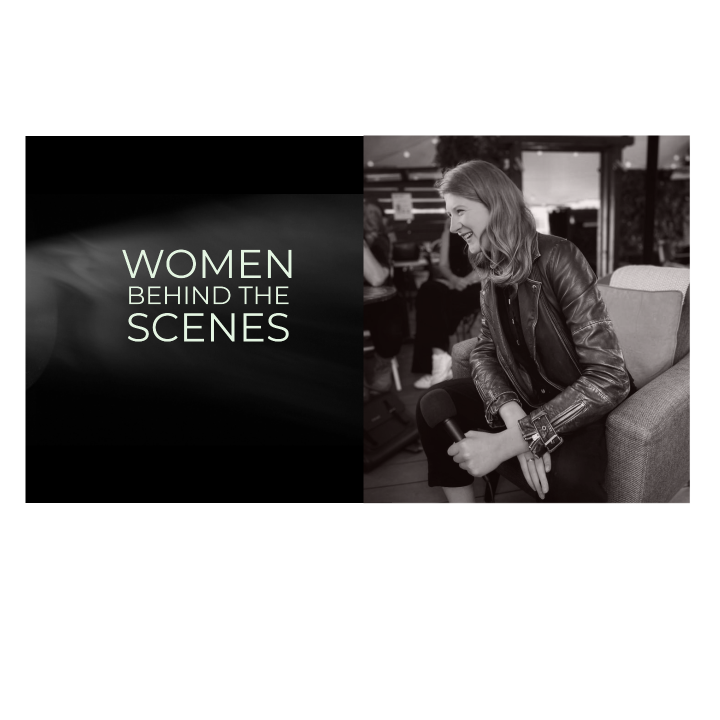 FOR IMMEDIATE RELEASE: Ahead of International Women's Day on the 8th March, female-led production company Singer Studios, announce the launch of WOMEN BEHIND THE SCENES, a brand new podcast series hosted by filmmaker and founder Eloise Singer.
In each episode, Singer sits down with a different guest working behind the scenes in the screen industry to talk about their experiences, challenges, and successes, exploring the art and craft behind some of the most impactful and acclaimed films of the moment.
WOMEN BEHIND THE SCENES is dedicated to exploring all stages of the filmmaking process. "Making women behind the scenes has been amazing, to speak with these incredible women has left me both inspired and in awe of their drive to tell the stories they believe in" said Singer.
On the first episode Singer talks with BAFTA winning, OSCAR nominated Lesley Paterson, a 5x world champion triathlete and the co-writer & exec producer of ALL QUIET ON THE WESTERN FRONT. They discuss Lesley's journey from the world of sport into filmmaking and the tactics she used to get this story from page to screen.
The varied roster of guests on upcoming episodes of WOMEN BEHIND THE SCENES include multi-award winning Editor Charlotte Munch Bengtsen whose most recent work can be seen in International Documentary Award winner ALL THAT BREATHES, Odessa Rae, Producer of the highly acclaimed BAFTA winning and OSCAR nominated documentary NAVALNY, Director and Co Writer Sally El Hosaini of BAFTA nominated THE SWIMMERS and one of the most exciting British Casting Directors working today – multi-award winning Kharmel Cochrane has a reputation for championing new and diverse talent and projects including THE WITCH, THE LIGHTHOUSE, soon to be released RYE LANE and Emerald Fennel's forthcoming SALTBURN starring this year's winner of the BAFTA Supporting Actor award Barry Keoghan.
Available on Apple, Spotify or wherever you get your podcasts WOMEN BEHIND THE SCENES episodes 1 and 2 are available now.
For further information
Lucy Davidson – [email protected] – Cathy Anderson – [email protected]
NOTES TO EDITORS
About WOMEN BEHIND THE SCENES
Have you ever wondered what it's like to work in the film industry? Join host and filmmaker Eloise Singer as she explores the stories behind some of the most impactful and acclaimed movies of the moment. In each episode, Eloise sits down with a different guest – from directors to producers, and editors to writers – to talk about their experiences, challenges, and successes. From difficulties in production to Oscar nominations, hear the journey each filmmaker took to reach where they are now and discover what goes into creating outstanding cinema. Singer Studios, a female-led UK-based production company and creative studio, uses the power of storytelling to help break boundaries, question the status quo, and spark change.
EPISODE 1 – AVAILABLE NOW
All Quiet on the Western Front: Co-Writer and Executive Producer Lesley Paterson
Lesley shares her advice on how to maintain motivation to get your project made focusing on the mastery of a craft rather than a fixed outcome Lesley's journey from the world of sport into filmmaking and her utter dedication to getting this film made is a great inspiration to us all to keep persevering despite the odds
EPISODE 2 – AVAILABLE NOW
All That Breathes: Editor Charlotte Munch Bengtsen
Charlotte shares her advice on how to challenge anxiety about your creative work, overcome feelings of loneliness and build a powerful team around you. In sharing her journey from dancer to editor, Charlotte reminds us of the power of leaning into your other skills to enhance your creative work.
EPISODE 3 – FRIDAY 3 MARCH
Navalny: Producer Odessa Rae
Odessa tells us about following your intuition and taking risks, navigating personal safety and security on a high stakes project. In sharing how she put everything on the line for this documentary, Odessa demonstrates the power of risk taking and trusting your gut in the creative process.
EPISODE 4 – WEDNESDAY 8 MARCH
The Swimmers: Sally El Hosaini
Sally talks about the process of learning to let go of her expectations, and the beautiful, spontaneous discoveries that she made as a result of trusting that her path would find her. Sally shares her advice on following your joys and passions to find your career path and building the right cast and crew for a project, in doing so Sally reinforces the importance of storytelling as a tool to connect and understand more about the world
Women Behind the Scenes is hosted by Eloise Singer and produced by Ben Weaver-Hincks for Singer Studios.
Executive Producers – Eloise Singer and Cathy Anderson
Production Manager – Hannah Alexander
Post Production – Matt McGuinness
Editing, Mixing and Mastering – Tom Fred Bradshaw [iGame.Audio]
Music – PremiumBeat.com
Production Assistant – Lucy Davidson
About ELOISE SINGER
Eloise Singer is an award-winning producer and director who founded Singer Studios, a creative studio specialising in multi-media narratives and experiences which focus on culturally significant storytelling via film TV, podcast, documentary and immersive games. Singer's work has shown at festivals around the world including Venice, London, SXSW, Raindance and Sundance: London.
About SINGER STUDIOS
Founded in 2017 by Eloise Singer, SINGER STUDIOS specialises in finding and telling untold stories which spark conversation and shift narratives by giving audiences a fresh perspective. Having executively produced Billie Piper's critically acclaimed 'Rare Beasts', SINGER STUDIOS is in production on upcoming film 'The Last Rifleman' starring Pierce Brosnan, Mrs Benz VR game, The Pirate Queen VR game and TV series as well as producing an investigative documentary series and podcast with XYZ Films and Library Films.
Twitter @singerstudiosuk
Instagram @singerstudiosuk
Website: www.singerstudios.co.uk